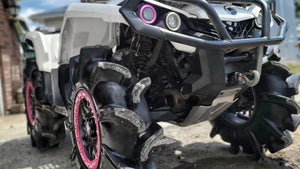 Alison, also known as CanAm girl on social media, is from Ontario, Canada, and has lived in the country/outskirts of Ottawa, Canada, her entire life.
During the week, she works for the government of Canada, but by the weekend she's in her waders and hopping on her Outlander!
Growing up outside the city, everything and anything outdoors is the way of life. From ATVing to snowmobiling and everything in between. The outdoors lifestyle gives her happiness, and she will continue this lifestyle for years to come! 
Even though she always had a passion for ATVing, she got into more intense riding when she bought her CanAm Outlander 570 in 2015. Since then, She has purchased a 2020 CanAm Outlander 850, and a
Renegade XMR 1000.
Her passion doesn't stop at riding; she enjoys everything that goes into upgrading her ATVs, customizing, and most importantly, having a fantastic time with friends.
In Ontario, ATVing is more than a hobby.It's a community as it has brought so many together.
"I am so happy to be partnered with Bullite to run some of the nicest wheels now available on the market forATVs!!"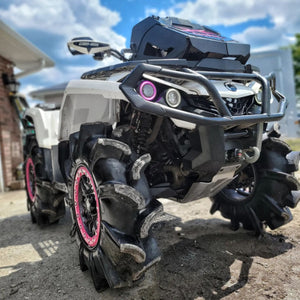 @canam.girl
#canamoffroad #outlander #finntrail #4x4 #offroad #atvlife #canamgirl #girlswhoride #bullitewheels